Payment Policies
Updated on April 15th, 2018
For security reasons, we now require all members to be photo-ID verified before being authorized to purchase currency with a credit/debit card. This policy will now also applyto purchases of $1,000 USD or more in a single purchase, or in multiple purchases with a combined value of $3,000 USD or more in any calendar month. This policy is an attempt to prevent fraudulent purchases and money laundering in compliance with the "Know Your Customers" regulations.
To become photo-ID verified you must either mail or email a photo-copy of the front and back of your State issued Drivers license or photo-identification card. To submit a copy of your photo-identification,
SUBMIT HERE
When purchasing from this website please remember that we do require a minimum purchase amount of $20 USD for all purchases. You may still make purchases under the minimum purchase amount requirement, however you will incur a
Low Order Fee
during check-out in the amount of $6.50 per order. The Low Order fee is to ensure that your purchase will cover the cost of processing and shipping. This policy is to offset shipping expenses incurred for each transaction.
---
Store Credit/Rewards Purchases:
Store credits may not be earned from any purchase that is made using store credits.
Store credits may not be redeemed through mail-in/phone-in purchases.
In order to use a store credit to pay towards your purchase, you MUST complete your purchase and payment online
Store credits MUST be applied at the time of check-out. Orders with instructions to deduct store credits from your purchase will be ignored, and your payment will be processed without the store credit being applied.
Store credits can only be awarded after a successful delivery of your purchased items.
Store Credits will be available in your account AFTER 45 days from your date of qualifying purchase.
You may not use more than $200 in store credits towards the purchase of currency in any 30 Day calendar period.
AVAILABLE PAYMENT OPTIONS:
US Post Office Money Order
Personal checks from US based Banks*
Cashiers Checks from US based Banks
Credit/Debit Cards* - Visa, MC, Amex & Discover
We do NOT accept PayPal, however we DO accept PayPal credit/debit cards
PAYMENT POLICY NOTICES:
Maximum standard currency purchase limit is $3,000 USD / day
ALL orders paid by personal check OVER $3,000 USD in any single transaction, you will be required to provide photo-identification prior to your payment being processed.

Submit Documents Here

Members who wish to make larger purchase may do so by requesting authorization for bulk ordering.
Members who wish to place large orders in excess of $10,000 USD in a single transaction, will be REQUIRED to provide the following information PRIOR to ordering: (We will not even provide a quote until funds availability has been verified)
1). A verification of funds financial statement.
2). Fill-out and submit a transaction summary report.
3). Provide a copy of valid State/Government issued Photo-Identification.
4). Provide an official document provided by the same bank you are issuing payment from; said document needs to be on bank Letterhead, be notarized, and show proof of address residency indicating that your Bank has your same billing/Shipping address on file as notated within your online Membership account.
ALL Members are required to submit a "Credit Card Payment Authorization Form", prior to paying for currency or bullion purchases with a Credit/Debit card. A new payment authorization form is required for each new purchase.

CREDIT/DEBIT CARD CHARGE-BACKS:

Any Member regardless of previous Membership standing, whom files a charge-back on any purchase made, will be subject to account suspension. ANY Member that shall file a charge-back with their Credit/Debit Card company, will permanently lose the privilege of being authorized to pay for purchases using a Credit/Debit Card. This will be a PERMANENT payment type restriction placed on your account. There is no dispute policy, or reversal procedure. Once you file a charge-back, we reserve the right to permanently restrict your account payment privileges. If you have a dispute with an order it is best to contact us and attempt to resolve the issue, before deciding to file a payment charge-back dispute.
Once your account payment options are limited for this reason, it CAN NOT be reversed!
Accounts with restricted payment options will be authorized to use ONLY Postal Money Orders and Certified Bank checks
We reserve the right to cancel ANY order for which payment has not yet been received, including layaway orders.
We reserve the right to verify ANY Photo-ID with your State BMV/DMV Fake ID Prevention Department.
Member accounts newer than 3 months, must obtain pre-authorization to pay for physical currency with Credit/Debit cards
MEMBERSHIP ACCOUNTS LESS THAN 3 MONTHS OLD:
*
Are
NOT
authorized to purchase currency when paying by credit/debit card.
*
Must obtain pre-approval to pay for currency purchases using a personal check.
*
May pay for purchases using ONLY Postal Money Orders, and Certified Bank Checks
---
POSTAL MONEY ORDERS:
Postal Money Orders may be used to pay for any size purchase.
You may obtain US Postal Money Orders at any US Post office. Postal Money Orders are available in amounts UP TO $1,000 USD / each. If your order total is more than $1,000 USD, you will need to purchase multiple money orders.
POSTAL MONEY ORDER REQUIREMENTS:
*
Make Postal M/O Payable To:
"Guardian Svcs"
*
Write your transaction order # on the Memo Field
Postal M/O Payment Clearing Time:
Currency Purchase:
2 Business Days
Lay-Away Purchase:
1 Business Day
---
BANK/CERTIFIED CHECKS & PERSONAL CHECKS:
A Cashier's check, Certified Bank Check, Bank Money Order or Personal Check, may be used to pay for any size purchase.
We will only accept these forms of payment from U.S. based Banks, whose home office is located within the 50 US States. The bank/financial institution issuing your check/money order must be able to be verified through CheckSystems*. We may contact your issuing Bank to verify validity prior to processing your payment.
BANK MONEY ORDER / CHECK PAYMENT REQUIREMENTS:
*
Make Bank/Personal Checks Payable To:
"Guardian Svcs"
*
Write your transaction order # on the Memo Field
Bank/Certified & Personal Check Payment Clearing Time:
Currency Purchase:
8-12
BUSINESS
DAYS
Lay-Away Purchase:
3-5
BUSINESS
DAYS
---
CREDIT/DEBIT CARD PAYMENTS:
Credit/Debit Cards may be used to pay for any size Layaway purchase. Credit/Debit Cards will have varying purchasing limits and restrictions on currency and bullion purchases. *
See each items description page for individual payment policies per item
.
CREDIT / DEBIT CARD PURCHASE POLICIES:
A 4% processing fee will be added to ALL currency purchases paid with credit/debit card
A MAXIMUM payment limit for Credit/Debit Cards in a single transaction: $600.00 USD
Card payments OVER $600 in an individual purchase will be broken into multiple smaller payments
Each smaller payment will be UNDER $600, and processed 1-2 payments daily until your total purchase is paid in full
Members with accounts newer than 3 months must obtain pre-authorization to pay for physical currency purchases
You must complete at least three (3) previous purchases to authorized pay for physical currency with a Credit/Debit card.
SPECIAL NOTICE:
*
Your CC Billing Statement Will Show Billed From:
"Guardian Services"
*
You MUST submit the above referenced payment authorization form prior to your card being charged for currency or bullion purchases. This form will be used to protect us against possible charge-backs for currency purchases. If you file a charge-back for your purchase, we will submit this form to YOUR Bank to prove payment authorization and rebuttal your charge-back.
CREDIT/DEBIT CARD PAYMENT CLEARING TIMES:
Purchase UP TO $600 USD:
1-2 Business Days
Purchase UP TO $1,200 USD:
1-2 Business Days
Purchase UP TO $1,800 USD:
2-3 Business Days
Purchase UP TO $2,400 USD:
3-4 Business Days
Purchase UP TO $3,000 USD:
4-5 Business Days
---
REFUND / RETURN / EXCHANGE POLICIES:
Refunds are processed differently for each payment type. Each payment type will have it's own refund procedures and processing time. Please familiarize yourself with our refund policies
BEFORE
you commit to a purchase, if you are not satisfied the refund/return policies for any specific payment type, please choose an alternate payment option.
If you pay for your transaction with a US Postal Money Order, Certified Bank Check, Personal Check, or Bank Draft, your refund will be submitted in the form us a Company Draft Check, issued by our Bank, and made payable ONLY to the persons name on the account form which your purchase was made. Your refund payment will be mailed ONLY to the BILLING address within your account information details AT THE TIME YOUR PURCHASE WAS MADE. Your refund will be mailed back to said address, via Certified Priority USPS mail, and will require an adult signature, with picture ID verification. The Certified mail will be Photo ID restricted, therefore the ONLY person able to sign for the package, will be the person whom the package was returned to.
Each refund request
MUST
be processed and submitted back to the original form of payment. As always, we do
NOT
allow refunds for Layaway service fees, this as always been our policy. We do however allow for refunds for payments made towards any Layaway pay-off. A refund for a Lay-Away payment MUST be requested prior to 11:59 pm EST on the date of the Lay-Away expiration.
If you wish to request a refund for physical currency, you will be required to ship your ENTIRE order back to us. at your expense. We must receive your entire order prior to your refund being processed. After your return is received by us, we will examine your returned merchandise for authentication of goods. All returned currency MUST be returned in the EXACT same condition in which it was delivered to you. All returned currency MUST have the EXACT SAME serial numbers that we have documented as having sent to you. All free samples of currency, items of gold, silver, or other free gifts that were a part of your order, must also be returned in in whole, and in the exact condition you received it in, in order for you to qualify for a refund.
Order that have currency with different serial numbers, even if it is the same amount of currency, will be rejected, and a refund will NOT be granted. We will grade the currency using our posted grading system, if any currency is damaged, your refund will be subject to a damaged good penalty fee to account for the lesser value of the currency condition. If any items of value are missing from your returned order, such as silver, gold, copper, free currency samples or other items, your refund will be subject to a missing items penalty fee equal to the value of the items that are missing from your returned items.
Once a refund/return is approved, your refund will be processed and delivered within 3-5 BUSINESS DAYS, not including weekends or ANY posted Banking Holiday for which we are closed for business.
---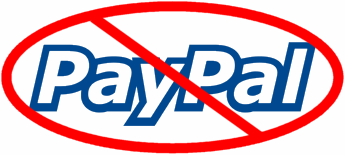 PAYMENT INFORMATION NOTICE:
*
Sorry, but we do NOT accept Paypal